About Us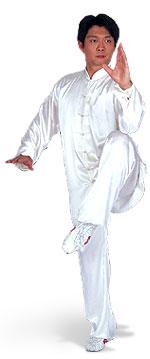 Taichi for Life brings together traditional Chinese systems of health and longevity, specially tailored to meet the needs of your lifestyle. An enjoyable and healthy way to balance and improve your life, Taichi for Life offers instruction in Wushu, Tai Chi and Qigong, as well as Traditional Chinese Medicine treatments including acupuncture, therapeutic massage and herbal medicine.
Whether you take-up the traditional Chinese art of Tai Chi, the ancient sport of Wushu, or choose to practise Qigong, Master Lai Wei Tang and our fully trained and qualified instructors will assist you to become more relaxed, tolerant and self confident, and physically and mentally stronger and healthier. Plus Taichi for Life's Traditional Chinese Medicine treatments, as well as offering cures for many illness, have a proven track record to help you reduce stress and tension, and create inner harmony between your mind and body.
The Taichi for Life Centre located in Forest Hills offers professional fully equipped training and medical facilities. Over 7,000 square feet, the Main Training Hall, Training Studio (for self training), lounge and kitchen/members' room allows you to train and meet like-minded people in an enjoyable and friendly atmosphere.
Master Lai Wei Tang
A former member of the famous Beijing Wushu Team, which won 12 consecutive China National Wushu Championships, Master Tang started training at seven years old. The youngest member of the Team when it was formed in 1974, Master Tang and training mate action star Jet Li trained under the direct instruction of legendary Grandmaster Wu Bin. The Team progressed to become the dominant force in Wushu. During this time, Master Tang won over 20 medals and the highest award in Wushu the Wu Ying. His skill with the spear is renowned and he competed successfully in many styles and weapons including Chang Quan, Straight Sword, Broadsword, 3 Section Cudgel, Double Broadsword, Ba Gu Zhang, Xing Yi Quan, Tai Chi and many more.
In recognition of Master Tang's achievements and contribution, he was awarded the Wushu Development Award by the Chinese Wushu Association.