Tai Chi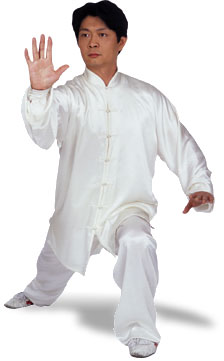 Enjoy Tai Chi classes at Taichi for Life. Whether you're young or old, male or female, beginner or expert, joining for fun or competition, we have a class to suit your needs.
All our Tai Chi classes focus on the cultivation of your body's vital energy (Qi or Chi) and are designed to help you achieve balance and harmony through the principles of Yin and Yang.
Not only will you practise one of the most popular art forms of ancient China, dating back over three hundred years to Tai Chi's origins in Henan Province, but you will be joining millions of people throughout the world who have benefited from the way that Tai Chi can rejuvenate your mental and physical well-being through the creation of balance and harmony.
Try Tai Chi at Taichi for Life today. Ease away the stresses and strains of modern living to create a better life for you and your family.
Classes
Beginner:
Designed for all ages this class teaches the basics of Tai Chi, learning the basic Ten Form students learn to feel and control their body in a calm relaxed manner.
Monday – 10:30am to 11:30am
Tuesday – 6:00pm to 7:00pm
Wednesday – 7:00pm to 8:00pm
Saturday – 2:00pm to 3:00pm
Advanced:
Following on from the basic Ten Form students graduate to longer routines while maintaining the focus on cultivating their body, including using weapons such as swords and fans to aid their journey.
Tuesday – 7:00pm to 8:00pm
Thursday – 7:00am to 8:00am
Saturday – 3:00pm to 4:00pm